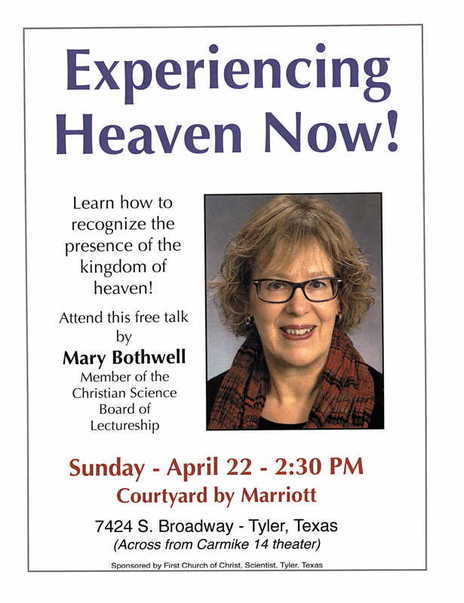 Last updated 4/19/18
​


​Time of services, Tyler church:SUNDAY SERVICES at 11 am.
Next Sunday 4/15/18: Doctrine of Atonement​Sun
day School for kids up to age 20.
Child care at all services
WEDNESDAY TESTIMONY MEETINGS
1st and 3rd Wednesday at NOON
All other Wednesdays at 7 pm
Next Wednesday, April 25th is at 7 pm.
​
​email for Church and Reading Room:
csrrtyler@att.net
Church address:
106 East Second Street
Tyler, Texas 75701
903-592-0462
The Sunday service consists of hymns, a Scriptural selection, announcements,
and the reading of a lesson sermon consisting of selections from the Bible and
the Christian
Science textbook
Science and Health with Key to the Scriptures by
Mary Baker Eddy. Sunday School runs concurrently, and is for children and
young adults up to 20 years of age. The services last one hour.
The Wednesday Testimony Meetings consist of hymns, readings from the Bible
and the Christian Science textbook, chosen by the First Reader. The meeting is
then turned over to the congregation for the relating of healings accomplished
through
prayer in
Christian
Science, as well as remarks on Christian Science.
The meetings last one hour.
Reading Room:
2301 South Broadway Suite A-3Tyler, Texas 75701903-592-6311 Email:
csrrtyler@att.net
Hours: Tues, Wed.,Thurs 11 am - 3 pm
Sat: 10:30 am - 1:30 pm
Closed Mon, Fri, Sun
Church location and Mailing Address
106 East 2nd Street
Tyler, Texas 75701
Phone number 903-592-0462
Email the Church or the Reading Room at csrrtyler@att.net
---