About Christian Science
Christian Science was discovered in 1866 by
Mary Baker Eddy. The teachings of Christian Science
are set forth in her book
Science and Health with Key
to the Scriptures
, first published in 1875. This book
was the result of a healing of a life-threatening
injury, and three years of exclusive Bible study and
inspiration by Mrs. Eddy in an effort to understand
the healing.
Christian Science is completely unrelated to
Scientology, which was introduced in 1952 by
L. Ron Hubbard.


Christian Science is based on the teachings and
healings of Christ Jesus, and answers Jesus' call to
his followers to "
Heal the sick, cleanse the lepers,
raise the dead, cast out devils" (Matthew 10:8). We
have no personal pastors. Our Pastor is the Bible and
Science and Health with Key to the Scriptures, and our
Sunday church services consist of readings from these
books, hymns, an inspirational vocal solo, praying the
Lord's Prayer with Spiritual Interpretation,
and
an-
nounce
ments.
Christian Science teaches healing of body and
mind by realization of our oneness with our Father-
Mother God and our completely spiritual nature, which
was the way that Christ Jesus taught and performed his
wonderful healing works. Mrs. Eddy was also a
prodigious healer in her own right, and taught others
the principles used in this healing as reliable Science,
not a dispensation by God to very few chosen people.
Thousands of authenticated healings by and of Christian
Scientists have been recorded in the monthly
Christian
Science Journal
and the weekly
Christian Science Sentinel

magazines, available in our public Reading Room. These
bear testimony to the efficacy of Mrs. Eddy's discovery,
and the appropriateness of the term "Science" in the name
of our religion.

First Church of Christ, Scientist, Tyler is a branch
of The Mother Church, The First Church of Christ,
Scientist in Boston, Massachusetts.

Helpful Links:
www.christianscience.com
CHRISTIAN SCIENCE READING ROOM
2301 South Broadway, Suite A-3 (Off Broadway Shopping Center)
Tyler, TX 75701 phone 903-592-6311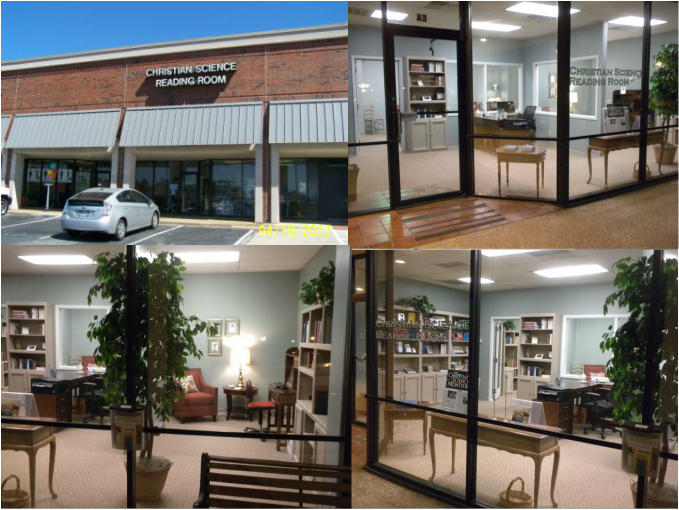 Hours:
Tuesday, Wednesday, Thursday 11 am-3 pm
Saturday 10:30 am - 1:30 pm
Email us at
csrrtyler@att.net
FOLLOW THIS LINK TO
NEW PRODUCTS FROM
CHRISTIAN SCIENCE PUBLISHING SOCIETY !!!
The Reading Room is open to the public, and is a
quiet place to study and pray, or learn more about
Christian Science. Study or purchase the Bible,
Science and Health with Key to the Scriptures
,
and other writings by the Discoverer and Founder
of Christian Science, Mary Baker Eddy, and a variety
of Christian Science publications and periodicals. An
attendant is there to answer your questions about
Christian Science.
---